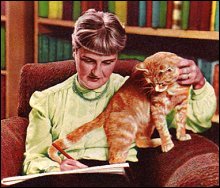 Kathleen Hale with the real Orlando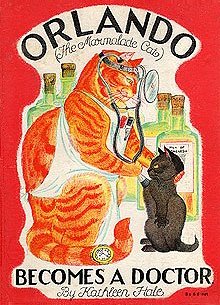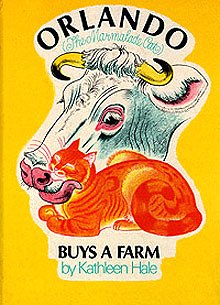 Kathleen Hale was a British children's book author and illustrator, whose most enduring creation is a series of books featuring the adventures of Orlando, a marmalade (red tabby, or 'ginger') cat with a wife called Grace and three kittens — Pansy, Blanche and the mischievous Tinkle. After a childhood in which she showed promise in art, Kathleen spent time in London in the artistic circles of the 1920s, until she married and the family moved in the early 1930s to a large country house in Hertfordshire, where they raised two sons and kept various animals, including cats.
One of their cats was named Orlando, and he was a particular favourite of elder son Peregrine, who was devoted to him, and that is how the ginger cat came to be the central character in the stories. The first tales were written to entertain the young boys at bedtime; later they were lodged with a literary agent, but he did not find a publisher for them. That didn't happen until a friend of Hale's took them to Country Life, whose editor was known to the friend. He was enthusiastic and as a result the first two books, A Camping Holiday and A Trip Abroad were published in 1938 and 1939 respectively. After these two Kathleen learned to do the lithography herself, which took a great deal of time and dedication although it reduced costs.
She was constantly sketching the family cats, and their antics gave her ideas for further stories. The horse 'Vulcan' who appears in some was based on a huge Shire horse called 'Prince' that she had had to learn to manage when she was in the Land Army in 1918. Eventually there were 18 books in all, some produced by Country Life and some by other publishers; they have been reprinted numerous times. The last to appear was The Water Cats in 1972.
In 1951 a ballet based on Orlando's Silver Wedding was commissioned and produced for the Festival of Britain, held that year. Kathleen designed costumes and scenery and wrote the lyrics, although only four performances were staged. In 1976 she was awarded the OBE (Order of the British Empire) for the very successful Orlando books and for her services to children's literature in general, particularly illustrations. She died in 2000 aged 101.

I treasure original and now rather tatty copies of the first two titles from when they were first published, which were given to me as a young boy (long ago!). Some others followed later, and I thoroughly enjoyed following the adventures of Orlando and his family. Recently my sister and I decided to complete the collection of the 18 titles, which we were able to do via eBay without too great an expenditure (although not first editions, of course). There is a nineteenth title, Orlando's Country Peepshow (1959), which is not a simple book like the others but has pop-up scenes showing the four seasons on Orlando's farm. Second-hand copies of this are available, but expensive!
I still think they are excellent children's books, and Kathleen's own illustrations are superb. The year each title was first published will be found in the image captions. The stamp (top right) was issued by Great Britain in 1994 as one of a set of 10 Greetings stamps depicting characters from well-known British children's stories.
Note: Kathleen Hale's autobiography is entitled A Slender Reputation (1994 Frederick Warne/Penguin Group, 0 7232 3793 2)
Orlando stamp, 1994