The Cats of
Parliament Hill


Ottawa, Canada
Left-click thumbnails for enlargements (JavaScript should be enabled),
but please allow all images to load before doing so, or some may not display
(if this happens, use Refresh from your toolbar to reload the page)
Cats have been around on Parliament Hill, Ottawa, Canada for a long time, maybe going even as far back as Victorian times when military buildings at the time gave it its former name of Barracks Hill. Certainly there were cats to keep the later Parliament buildings free of rodents until 1955, when it was decided to use professional services with traps, sprays and chemicals instead. That didn't mean the felines disappeared, though; they continued to be fed in various locations around the site by groundskeepers and maintenance employees. But it seemed their long-term future was uncertain.
A formal colony begins

That all changed during the 1970s when a local resident, Irène Desormeaux, decided to do something about the strays, arranging for their regular feeding and starting the more established colony that exists today. She also had some simple shelters built for them for protection against the worst of Canadian weather. When Irène died in 1987 her role was taken over by volunteer René Chartrand (left), a pensioner and retired house painter, who loyally fed the cats for many years, using donations and his own money when necessary. No funds are received from the government.
In 1997 Chartrand and a friend built splendid and more permanent shelters for the cats. These each have four cubbyholes or 'condos' for them to come and go, multiple floors, a boardwalk in front and a veranda. The roofs, a favourite sunning spot in good weather, are modelled in the same French-influenced style as the main Parliament buildings opposite. For his tireless work with and devotion to the cats over a long period, René was presented with the Humane Society of Canada's Heroes for Animals award. By 2003, when he was well into his 80s, a team of regular volunteers was formed to continue his work and ensure that the cats would always be cared for. There are usually 8 or 10 volunteers.
The Parliament cats today
René has now retired, but these days the residents continue to come and go as they please in their own domain and have become something of a tourist attraction; they are generally friendly. The colony is maintained at around 10 or 12 animals, and all are spayed or neutered. They receive free inoculations and veterinary care from the nearby Alta Vista Animal Hospital. Donations from tourists and others pay for their upkeep, although the Purina pet-food company has also made donations of food. What is provided for the cats also benefits numerous raccoons, squirrels, groundhogs and pigeons, which take advantage of the handouts!
All the cats on the Hill are named and known to the volunteers, who between them visit, feed and spend time with the cats several times a day, even through the severest weather. Generally new animals are taken on only when a current resident dies or, as sometimes happens, inexplicably disappears, so that there is a vacancy. There is no guarantee that the established cats will accept a newcomer, or vice versa. In cases where a problem arises the newcomer may be adopted by a volunteer, or else taken to the Humane Society for rehoming.
Wikipedia has an article about the Parliament Hill cats, and a list of current residents as at 2010, as well as past residents. A similar list, perhaps from a year or two earlier, is at the The Cats of Parliament Hill Blog, where there are also comprehensive entries and many photos dating from 2005 up to (at the time of writing in early 2011) the present. The site and blogs are the work of Klaus J Gerken, a volunteer since 2003, and we acknowledge him and his fellow volunteers as the source of the photos on this page. The sanctuary group also has a Facebook page.
Early morning
welcome

So where's
the food?

At last . . .

Yours is better
than mine

The caregivers' laps can
become very crowded!

Other residents are
always interesting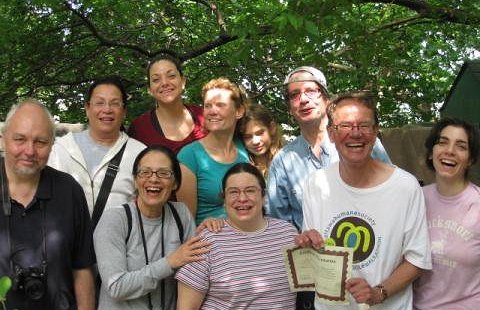 The team of volunteers on the Hill in the spring of 2010
Front row (left to right): Klaus, Suzanne, Lia, Brian, Sally
Back row (left to right): Cheryl, Leyla, Lara, Abigail, Daniel
(our thanks to Brian Caines and Klaus Gerken)
Further reading
The UK Daily Telegraph wrote an interesting feature about René and his care of the sanctuary cats in 2000.
---