Chibley,

round-the-world voyager
(several times)
on the barque Picton Castle and now . . . George
Left-click thumbnails for enlargements (JavaScript should be enabled),
but please allow all images to load before doing so, or some may not display
(if this happens, use Refresh from your toolbar to reload the page)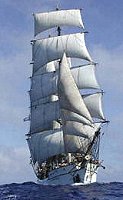 The Picton Castle (named after a real castle in Pembrokeshire, western Wales) was built in 1928 as a motorised fishing trawler operating out of South Wales. She was modern for her time, and in World War II was conscripted into the Royal Navy as a minesweeper — a very dangerous occupation — but she survived and after the war was used as a freighter in the North Sea and Scandinavia. In the early 1990s her captain, Daniel Moreland, was seeking a vessel that could be converted into a square-rigged barque. He came across Picton Castle, then languishing in a Norwegian fjord, and she fitted the bill.
She was taken across the Atlantic, to New York and eventually to Lunenburg, Nova Scotia, where she was transformed with a 2 million dollar refit 1996-97. Now she travels the world participating in worthwhile projects, trading goods, delivering educational resources to remote island schools, and acting as a sail-training vessel. Picton Castle has taken part in a number of tall-ships festivals, and during 2010-11 completed her fifth round-the-world voyage.
The ship's cat
Naturally any self-respecting sailing ship needs a resident cat, and Chibley was holder of the post on Picton for nearly 15 years. Her full name was Miss Chibley Bits. No, I didn't know either! — apparently 'chibley bits' is an old sailors' term for little pieces of 'stuff' that are picked up on the feet from walking barefoot on a wooden deck. When you roll into and out of your bunk at the end of your watch or the start of a new one, these bits get left behind. As 'Chibs', to use her familiar name, was very small when she first came on board — and remained quite small — the captain came up with the name Miss Chibley Bits. She was a six-toed (polydactyl) cat.

She was rescued from an animal shelter while very young and was ship's cat since then. She was described as 'free-range', meaning that she went where she pleased, and she was said to exert nearly as much influence on board as the captain! She would personally check out all new trainees when they came aboard, and sometimes supervised dockside sales of merchandise such as T-shirts, hats and the like inscribed Chibley — the only cat with a barque. Chibley had a tendency to steal the show wherever the ship called and was a great favourite — which she knew, of course!
Chibley's adventures

As a free-range cat, Chibs was usually allowed ashore in port (she hated being confined to ship and would protest vehemently), and usually had that uncanny ability of ship's cats to appear again shortly before sailing time. On a couple of occasions, though, she caused mayhem and delayed departure by not reporting for duty on time, presumably having had unfinished business to attend to on shore. In 2000 even the city police of Halifax, Nova Scotia, were enlisted to search for her when she didn't return after a Parade of Sail; the crew refused to sail without her, and she reappeared in her own time (after national media attention!).
A similar thing happened on another occasion, following an event in Bergen, Norway, when sailing time arrived and no cat had returned. Crew members wandered around the streets frantically shaking bags of cat treats, and someone turned up at the ship with a struggling and indignant tabby that was not Chibley! It transpired that a Norwegian couple had come across her in an alley, eating a cheeseburger, and thinking she was a stray had taken her home. Only when they found out from the news media about the search did they realise they had the ship's cat — who, meanwhile, had had a nice cosy nap in their home! After that she wore a small laminated business card on her collar with instructions about what to do if she was found wandering.
A cat of character

It's been said of Chibley that she didn't think she was a cat: she thought she was a sailor, and one not of inconsequential rank, either. In June 2008 Captain Moreland wrote in his log that the cat had been very talkative of late, and he thought that when she meowed at someone she was clearly articulating some specific and logical point, and quite possibly giving instructions. She would then look up with her big, soulful eyes, give a little flick of her tail and, with a final backward glance, go off to see to other business, having left her instructions to be followed. Although much loved, and affectionate in her own way, she wasn't a great one for tummy rubs, ear scratching or cuddles; when faced with such situations she was likely to stalk off and find something more important to do!
Round the world for the fifth time
Chibley's last major adventure began in May 2010, when Picton Castle started her fifth round-the-world voyage, expected to be the last of that kind under the command of Captain Daniel Moreland. Lasting 14 months, the ship set out from her home port of Lunenburg, then sailed westwards after passage through the Panama Canal. Picton returned to Lunenburg in mid-June 2011 after a successful voyage, and there's an account of her homecoming by the purser. Images from current and past voyages are posted at Picton's Flickr photostream and, from those, photos of Chibs can be found with this search link: the results are not exclusively of her as many where she isn't pictured have been tagged with her name, but a number of her are there! She's also seen a couple of times in this Picton video at YouTube.
Chibley had full billing as a crew member of the ship and you can see her comments by scrolling about a quarter of the way down the page for the crew of the fifth world voyage. When the ship is in port between voyages for repairs and maintenance, there are always a few crew members around, working on projects and ensuring security, so she was able to remain aboard in familiar surroundings and be looked after. Apparently Captain Moreland had tried taking her to his house while they were ashore — but apart from short visits there, Chibley did not want to know!
The ship is currently (June 2012) taking part in the Tall Ships Challenge and visiting various ports along the American eastern seaboard. Her next voyage will depart in October 2012 for the South Pacific.
Tragedy — and a tribute
Sadly, Chibley is no longer aboard. On the stormy and dark evening of 10 November 2011 in Lunenburg, as she was making her way back to the ship from Captain Moreland's house after a good meal, she was hit by a car and killed. What a tragic and bizarrely inappropriate fate for a cat that had sailed around the world five times, clocking up a total of some 250,000 miles (400,000 km) on her voyages. Fortunately her body was found and recovered shortly after the accident. A memorial service was held on the 12 November, at which a number of her friends and admirers gave her a 'good send-off', and she is buried on the Lunenburg waterfront. In that way shipmates who weren't able to be at the service will be able to visit her grave and pay their respects when they come back to the port, and she will have a nice view of the harbour so she can watch the ships come and go.
Captain Daniel Moreland wrote a comprehensive and touching tribute to Chibley following her death. It can be seen in his log for 11 November 2011.
---
| | |
| --- | --- |
| | And so to George . . . |
Chibley's successor


Following Chibley's sad loss, a new ship's cat was needed. During Picton's 2012 summer voyage, Tabby cat George was just eight weeks old when he was adopted by Chief Mate Michael Moreland in Savannah, Georgia, where he had been rescued that very same day. When he was found, little George was a street moggy, all skin and bones and big scared eyes — a tiny bundle of fur with big ears and a whippet-thin tail. He has four white paws and a white nose, so he looks as if he's been caught stealing the cream.
He spent his first day on the ship just sleeping and eating. Soon his belly grew fat and round, and 'the rest of him will plump up soon enough', as Moreland put it. To start with George lived in the mate's cabin as he began learning his job as ship's cat, but it wasn't long before he was enjoying trips to the charthouse and promenades around the deck, 'accompanied by the cooing of otherwise thoroughly salty sailor girls'. He enjoys playing with string and hiding in dark corners, like behind the desk in the office, and he also enjoys having his face and tummy rubbed. George is pretty pleased when the crew catch fresh fish, and is always on the lookout for unattended food. He's been providing great entertainment and is described as a 'scamp', hunting shadows and still exploring — his world expanded a little more once he managed to climb the charthouse ladder, but he also spends a lot of time snoozing in the office.
In mid-August 2012 the ship returned home to Lunenberg to prepare for her next voyage to the Pacific, starting in October.
* * * * * * * * * *
Miss Chibley wrote her first children's book, assisted by Ruth Wells, who is a sailor herself and has spent time on Picton Castle. Entitled Chibley: The Cat who went to Sea (ISBN 978-1-896496-61-0), the book describes her arrival and early days on the ship, and has drawings by Doug McCabe. It costs 15 Canadian dollars including postage, and is available by . Profits go towards buying educational materials for distribution on Picton's current voyage.
Chibley's second children's book was published during 2009, again with Ruth Wells' help and with lovely illustrations by Yolanda Poplawska. It tells of Chibley's adventures around the port of Halifax, when she meets Clara and Erik the Red from the Maritime Museum there. Publishers are Community Books Lockeport, Nova Scotia; ISBN 978-1-896496-69-6; available from Ruth Wells as above.
Material for our account of Chibley has come from the following websites among others:
Picton Castle home site and Captain's Log relating to Chibley and now George
Ben Rogers' Wind and Wonder blog
Video links:
Picton Castle 2007
Nice footage with commentary of the Picton pulling anchor and setting sail from the Cape Verde Islands, Jan 2009
Noisy homecoming to Lunenburg, 2009; and another
Picton being hauled into drydock at Lunenburg, March 2012
---