James Bowen
and
Street Cat Bob
London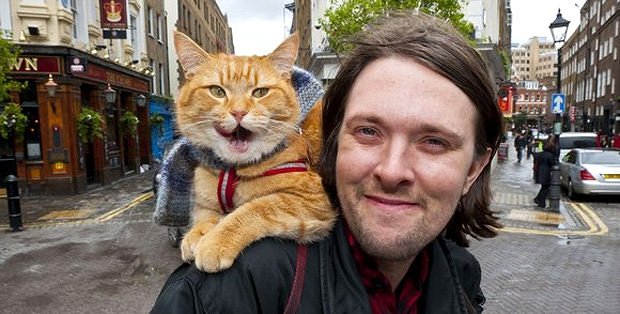 Left-click thumbnails for enlargements (JavaScript should be enabled),
but please allow all images to load before doing so, or some may not display
(if this happens, use Refresh from your toolbar to reload the page)
In 2007 James Bowen was living in a one-bedroom council flat in north London, recovering from heroin addiction and a life on the streets, and earning a meagre living as a busker (street musician). It was not a very fulfilling existence and his prospects didn't look good. Until ...
Bob makes an appearance

One cold March evening he went home and found an injured and hungry ginger tomcat in the stairwell of his block of flats; it seemed he might have been attacked by a dog, or maybe a fox. James, who says he'd always liked cats, 'spoke to' him and found him friendly, but didn't feel that in the circumstances he could take him in — and anyway he might have belonged to someone. But when the cat was still there 36 hours later he felt he had to act. He took him in, gave him some food and drink and asked around to see if he could find an owner. No one in the neighbourhood claimed the cat, and James could see that he had a nasty abscess on a back leg. So he took him to the RSPCA's Harmsworth Animal Hospital to be treated, spending some of the last of his money at the time on antibiotics. The vet thought he was probably not yet a year old. James felt he then had to keep the animal at least for a couple of weeks to ensure he received his medication and recovered, so off he went to buy some cat food. Then he had to go out with his guitar to try to earn some more cash.
[ The two photos above were both taken in 2009, well before the pair started to become better-known. ]

He continued his busking and Bob, as he was now called — after a character in the TV programme Twin Peaks — would be waiting for him when he returned home. The pair gradually got to know each other, and James was finding that Bob, although certainly not perfect, was quite special. It didn't seem as though he was, or had been, a house cat and he insisted on doing his toileting outdoors. James was still thinking that when he had regained his health, Bob would want to move on. Bob, as his condition continued to improve, had other ideas, though! When James left to go busking, the cat would try to follow, despite his best efforts to send him home. Eventually he gave in.
Bob goes busking


To cut a long story short, Bob started to accompany James, travelling on his shoulder on the busy London streets, on buses and the Underground. While James was playing his guitar and singing, Bob would calmly sit on his bag, or in the guitar case, with remarkable poise and equanimity. The effect on the day's takings was dramatic; as James put it, the cat made him cease to be 'invisible', as people stopped to chat, stroke Bob and take photographs. As time went on, Bob gained a proper harness and lead for his safety, he was neutered and microchipped — and became a very important part of James' life. 'He's what I wake up for every day now,' says James.



All went well until during 2008 it became obvious to James that he couldn't continue to make a living from his street performances; he'd been in trouble for performing where he shouldn't, had warnings from the police and knew he'd be in real trouble if he offended again. He therefore applied to become a Big Issue seller, and was accepted — it was something he'd done previously for a short time. It's a weekly street newspaper, written by professional journalists and sold in several countries of the world by homeless or similarly disadvantaged people; they buy the papers themselves and sell them at a profit, giving them a chance to improve their situation. Sellers have to be registered, and each usually has a particular spot, or 'pitch', where they are to be found in their town or city. James' usual spots were near entrances to the Underground ('Tube') stations at Angel, Islington and at Covent Garden. Because of Bob's popularity at the Underground stations and his frequent travels around London, Transport for London presented him with his very own special Oyster card. (Oyster is a plastic smartcard you can use instead of paper tickets by putting pay-as-you-go credit on it —Ed.)
The books and TV



As before, Bob continued to accompany James, and there's no doubt he helped to improve Big Issue sales. The unusual pair started to feature on the internet. One day one of the people who saw them at their pitch was Mary Pachnos, a literary agent who had previously acted as the UK agent for Marley and Me, a book about a mischievous dog who forms a special bond with his human family. She thought that James and Bob's story, and their unique relationship, would also make good book material. The rest, to quote an oft-used saying, is history! A book deal was agreed during 2011, and in 2012 A Street Cat Named Bob was published by Hodder and Stoughton (outer left, and also see details and our review in Folios). Its success was immediate and almost worldwide, and it's been translated into almost 30 languages; a children's version followed the adult book (inner left). In 2013 a second book appeared, The World According to Bob (right), and looks set to also sell very well; sales of the two books together have already reached a million — and the first one wasn't released in the United States until July 2013.



Book signings — with Bob, of course — became very popular in London (left); the cat takes it all in his stride, although more recently James has banned flash photography from these occasions, and stopped everyone petting Bob, as he was getting a little stressed by these things. A nice idea has been the website Around the World in 80 Bobs, showing the book against backgrounds of places where it's been read.

There have been several appearances on national TV in the UK, in which Bob sits calmly next to James, as good as gold (above right): one example is ITV's This Morning (Apr 2012) where Bob's seen wearing a scarf; he now has a huge wardrobe of scarves that admirers have sent in for him, many of them knitted specially. Another of his trademarks is that James has taught him to 'high five' with one of his paws when James holds up his hand.

In April 2013 Bob (with James) attended the televised British Animal Honours, which celebrate the achievements of the country's most extraordinary animals and the people who work with them. He was awarded the 'Tails of the Unexpected' Honour (right), a special award given to an exceptional animal or individual that falls outside of the regular honours categories.
Charity work
Naturally there's a huge internet presence now, with avidly followed social media pages — see the links below. On the home front, James said that 2012 had totally changed his and Bob's lives, and so in 2013 he wanted to start repaying some of those who had helped them to transform their fortunes. In particular he chose Blue Cross (right), the charity that had regularly treated and supported Bob in the past, when times were hard for him and for James, and that every year makes a difference for thousands of other cats, dogs and other pets. A campaign was opened at JustGiving where anyone could make a donation to the charity, and it was successful to the tune of over £21,000. In addition, and as some other celebrities have done in the past, James — with Bob's assistance, of course — helped to paint a special teapot cleverly featuring Bob's portrait and signed by the two of them (left). The pot was auctioned on eBay and raised £680 (around 1000 US dollars at the time) for Blue Cross.
The future

There are plans for two further children's books, but so far not another adult one. An exciting possibility is a Hollywood film, but nothing definite has yet been decided about that; if it came to fruition there would be the prospect of a trip to the States for the pair. Earlier James said that he wanted to renovate his London flat, but more recently he's spoken of leaving London and finding a home for Bob and himself in the country. One idea James mentioned earlier was to register Bob as a Care in the Community animal, so he could take him to old people's homes and care centres. 'Animals are great for calming the spirit when you're stressed,' he explains. 'Bob certainly helped me in that way, and I'd like to help other people in that way too. Maybe I'd have to take some courses in community care or something like that.'
Whatever happens, it's been an absolutely amazing time for James; he says that he no longer needs to go busking or selling The Big Issue — and he doesn't hesitate to put it all down to the ginger cat who entered his life in 2007!
Updates
Late 2013


Following the success of his books James has been able to give up busking and selling the Big Issue, and much of his and Bob's time is devoted to book signings and charity work. By mid-December 2013 the target figure of £20,000 (around 33,000 US dollars) for the Blue Cross had been reached via the JustGiving site mentioned above — a great achievement! Earlier in the year an event we didn't hear much about was a scheme run by ZSL (London Zoo) to raise money to buy giant toys for the zoo's Sumatran tigers, Jae Jae and Melati, to play with in their new Tiger Territory, opened in the same month by the Duke of Edinburgh. It seems that certain well-known cats were given tiger toys to play with, publicity shots were taken and then the toys and 'pawtographed' photos were auctioned on eBay. Downing Street Larry was one cat that took part, and Bob was another — in fact he raised the largest amount.
March 2014
It was reported that total sales of James' books in the United Kingdom had reached a million — a figure that few authors achieve. 'It's incredible,' he said. 'When I first saw Bob on the doorstep, I never thought this is where I'd be today.' There's an interesting article in the Guardian.
September 2014


A wheel turned full circle in July when Bob was featured in The Big Issue with his photo on the front cover. A signed copy was auctioned in aid of the charity. James and Bob continue to raise funds for other causes such as Cats Protection and also an appeal for a dogs' home at Manchester, a large part of which had been destroyed by fire. In October another book will be published, A Gift from Bob.
February 2017
Since our last update James and Bob have become firmly established as 'celebrities': quite a remarkable change in fortunes for a former drug addict and a stray cat! James's original book has been translated into over 40 languages. As well as the sequel book, The World According to Bob, there have been four children's books, a picture book that was a spin-off from the blog Around the World in 80 Bobs, and then A Gift from Bob, which is a short story about Bowen and Bob's final Christmas on the streets together. Worldwide sales of books stand at more than five million.
There was an ambitious project to set up a cat café in London to help homeless cats; a fund was launched and the target exceeded with donations from fans and supporters. However, the practicalities of actually finding a suitable site and then dealing with all the myriad regulations that would have been required to get the scheme off the ground seem to have overcome the initial enthusiasm, and it has been admitted that it will probably not happen. Money remaining will be given to other charities. More can be read at the Daily Mail.
Much more successful was the plan to shoot a movie based on James and Bob's experiences. This came to fruition in 2016, opening to good reviews following a London première at the Curzon, Mayfair in early November that was attended by Kate, Duchess of Cambridge. The part of James was played by Luke Treadaway. The original plan was to use 'Bob-alikes' in the form of six specially trained acting cats from a top animal trainer in Canada — but Bob had other ideas! He stole the show while one scene was being filmed in his familiar territory of Covent Garden, and from then on it was decided he would play himself in as many scenes as possible, while the look-alikes would perform the more dangerous scenes, such as being pursued by a large dog. More about the filming, as related by James, can be seen at The Big Issue and there's a TV interview including Luke at YouTube.
Following the film James was doing some touring around the UK, with Bob, to promote it: Bob is now quite a seasoned traveller with his specially designed cat carrier, as he has accompanied James to book-signing events in various cities. He has even been abroad, to the Netherlands and twice to Germany, first promoting books and more recently the film. It's possible he might at some time visit the United States. Meanwhile James continues his charity work at home, notably for homeless people and for animal charities.
Links and further reading
Other pages
Numerous early-ish clips of James and Bob can be found at YouTube, but here's a small selection:
At Vimeo, a great clip using time lapse photography, of a drawing of Bob and James being created by artist Amie Hill: James and Street Cat Bob - Time Lapse in Coloured Pencil (Aug 2013).
For many of the images used on this page we acknowledge and warmly thank Flickr users. By taking the following links to the originals these photos can be seen full-sized with dates, and sometimes a little further detail and/or additional shots: Harry Mitchell : Photocritic.org : acb : Dan Chippendale : Stuff n Nonsense (via Annie Mole) : Bernie Lampert : Annie Mole : Maja Kucova : Bessandra : Fabio Lugaro : jayninety : bobsmithgl100 : Gavin Mills : wedding dress fashion : Paul Riley : Leo Reynolds : Elena Alhimovich.
There's also a group pool at Flickr dedicated to James and Bob where many more images can be seen.
---