Left-click thumbnails for enlargements (JavaScript should be enabled),
but please allow all images to load before doing so, or some may not display
(if this happens, use Refresh from your toolbar to reload the page)
This is a cat tale probably without a cat,
although Dick Whittington was a real person, and he was indeed Mayor of London.
There are many variations of the story, but it goes something like this, based on a play
produced in 1606 with later additions and evolution over hundreds of years.
The myth
The popular myth is that Dick, who hailed from Gloucestershire, was orphaned at a young age, and as there was no one to look after him and he was very poor, he decided to go to London to seek his fortune. Rumour had it that the streets there were paved with gold. He duly went to the big, bustling city, found no gold, and so instead set about trying to find work. He wandered from shop to shop, door to door, but no one wanted to give him a job. Tired, hungry and dispirited, when night fell the boy fell asleep on the steps outside a large house. The cook found him and tried to chase him away, but the master of the house, a kind and generous man, intervened, felt sorry for him and took him in.


The house owner was a rich merchant called Fitzwarren, and Dick was found a job as a scullery boy. He earned his bed and board and had a little room of his own under the eaves; but the place was overrun by rats and mice, which scurried around, even over his bed, and stopped him sleeping properly. Being a resourceful young fellow, Dick earned a penny shining shoes for gentlemen; then he went along to the market near the Tower of London, where he used his penny to buy a cat. Life became easier as the cat kept the vermin away, and he could sleep in peace.
One day, Fitzwarren called the servants together to tell them that he had a ship leaving soon for foreign parts with goods to trade, and invited them to send along any of their possessions they wished to sell to make a bit of money. Dick had only his cat to give, and although he loved her dearly and would have to put up with the rats again, he gave her to the captain to sell or trade. Some versions of the story say he parted with his cat at the suggestion of the daughter of the house, Alice, of whom he was fond and whom he wished to please.
Life went on for a while for the scullery boy — but without his cat, and with Fitzwarren's cook doing everything she could to make his life miserable, Dick eventually decided London was not for him and he would return home to Gloucestershire. Pausing on Highgate Hill on his way out of London, however, he heard the bells of Bow Church ringing, and they seemed to be saying, 'Turn again, Whittington, thrice lord mayor of London.'
Astonished, he nevertheless took it as a good omen and returned to the Fitzwarren house. The house was buzzing with the fact that the trading ship had returned — with great news. At one of the ports of call, Barbary, the king had been desperate because his palace was overrun by rats and mice and he didn't know how to deal with them. The captain returned to the ship and collected Dick's cat, which soon killed or drove away the rodents. The king was amazed, never having seen such a marvellous creature before, and offered a large sum in gold and jewels if he could buy the animal.
A variation of the tale has the cat returned to Dick, along with his reward from the grateful king: but in any case, Dick had become a wealthy young man. He asked for Alice's hand in marriage, which she accepted, and he set up his own trading business. Eventually he became Mayor of London — three times (or thrice), just as the bells had predicted.
* * * * * * * * * * * * * * *
The real story
Richard Whittington was an actual person, who lived from about 1350 to 1423. He was the younger son of Sir William Whittington, Lord of the Manor of Pauntley, in Gloucestershire, and as such he was neither poor nor an orphan. However, his elder brother inherited the estate upon Sir William's death in 1358, and Richard did travel to London to find work.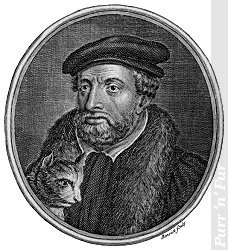 After serving an apprenticeship, he eventually became a mercer: a merchant dealing in valuable cloth from overseas, such as silks, velvet and cloth of gold. By selling these materials in quantity to the Royal Court, Whittington became wealthy, to the extent that when deposed in 1399, King Richard II owed him £1000, a very large sum at that time. Whittington actually lent money to the Crown in the early 1400s, and in return he was allowed to export wool without payment of customs duty. The Mercers' Company, of which he was a member (indeed, he was Master of it three times) was the leading livery company. These were organisations that controlled their various trades and received rights from the monarch. There are no mercers today, but the Company still exists and now does charitable work.
It's correct that Dick Whittington married Alice, daughter of Sir Ivo Fitzwarren of Dorset. In 1393 Dick became an alderman (magistrate) of the City of London; and then when the Mayor, Adam Bamme, died in 1397, the king chose Whittington as his replacement. He was elected again the year after, and twice more, in 1406-7 and 1419-20. Technically, therefore, he served four times as Mayor, although two of the terms were back to back. He was never actually 'Lord' Mayor, as this title was not used until a much later period, but the Mayor was a very important position: the holder was head of government for the City of London.
He died in 1423; Alice had died before him and they had no children. In his will Whittington requested that his wealth be used to benefit the city that had made his fortune for him. An almshouse was set up (where poor homeless people could live), in addition to a priests' college, a library, and various public projects including improving London's water supply and rebuilding Newgate Prison, where it is said that there was a carving of a cat over one of the gates (the prison was destroyed in the Great Fire of 1666, and was subsequently rebuilt in its third incarnation, sans cat). Whittington's charity is still operated today by the Company of Mercers. In 1966 the almshouses were rebuilt outside London, and they home a number of elderly people.
The story of Dick Whittington, thrice Mayor of London, has survived over the centuries and still appeals to people, perhaps because of the idea that they also could dream of going to the big city and making their fortune: certainly London remains a magnet for all kinds of people hoping to better their position. And each Christmas season the Whittington story is still re-enacted in pantomime. (You may be interested to see a programme from 1897.)
And the cat?
The cat is harder to explain. There is no evidence that Dick Whittington ever had a cat. Maybe the association with the animal arose from the type of boat he used for trading, known as a 'cat'; or another possibility is that the word evolved over time from the French achat, meaning a purchase. Oliver Goldsmith, the famous eighteenth-century British author, is said to have tried to 'kill off' the cat, so as to make the tale more moral and inspiring: but he didn't succeed. The cat is shown with Whittington in a 19th century engraving (above) from a painting held at Mercers' Hall; but presumably it was painted centuries after Whittington's time when no one would have known what he looked like, but after the cat had become part of the tale, hence its inclusion.

Whittington and his cat are portrayed as one of five sculptures by Laurence Tindall situated in the ambulatory at the front of London's Guildhall Art Gallery, which was opened in 1999. Tindall comments: 'My figure, in Portland stone, is carved in a style illustrative of children's literature. It shows Dick and his cat at the point of turning again on hearing Bow Bells and — look behind him: there is a rat! My idea with this and the other figures was to lighten the atmosphere at the entrance of this impressive building and provide something for visiting children.'



The Whittington Stone stands on the site of a former wayside cross at the foot of Highgate Hill, close to the modern Whittington Stone pub. It's not easy to photograph satisfactorily, being closely enclosed by iron railings, but even these have not protected it from some damage, and of course the ravages of time. Compare the photo in the paragraph above, taken some years ago, with the ones here taken in 2006. The cat, incidentally, was not added to the stone until 1964 — the stone was erected in 1821, replacing an older one. Behind it, from the late 19th century until the 1970s when it was demolished, there was an earlier pub by the name of the Whittington Stone.
The inscription on the stone reads:
Sir
Richard Whittington
Thrice Lord Mayor
of London

1397

—

Richard II

1406

—

Henry IV

1420

—

Henry V

Sheriff

—

in 1393
And what was the cat's name? So the tale goes, he (rather than 'she') was called Tommy — that is to say, the tradition in pantomime is that Whittington's cat is always a 'he' and his name is Tommy.
Further notes:



1) Whittington was buried in 1423, next to his wife Alice, in the church of St Michael Paternoster Royal in the City of London, a church he helped to expand greatly with generous endowments. He is commemorated by a plaque (outer left), and also he and his cat are depicted on one of the stained-glass windows in the church (inner left). He lived close by in the same street (today College Hill), as is recorded by a further plaque (right). His body was later dug up by one of the rectors, Thomas Mountain, who believed that great riches had been buried with him. There was none, but Mountain took the body's lead shroud. It was dug up again in the reign of Mary I, when it was re-covered in lead. The location of the grave has since been lost. An attempt was made in 1949 to find it again, without success; however, curiously, a mummified cat was discovered!


2) The Whittington Hospital on Highgate Hill includes a black cat on its sign (left). For a couple of years from about 2009 a real-life black cat called Bosik (right), who lived nearby, made it his business to visit the hospital almost every day and became a favourite with staff; he would get nibbles from the Chief Executive's office, nap outside Accident & Emergency, and stretch out in the hospital's gardens. In mid-2011, though, his owners moved further away, to a house with its own garden, so his visits came to an end. Staff were very sad to see him go, as he had become something of an institution, and everyone wished him well in his new home. See also our pub signs section for two 'Whittington pubs' on Highgate Hill.
3) The county of Shropshire disputes the claims that Dick was a rich man's son from Gloucestershire, and that Fitzwarren was the wealthy merchant in London. The Shropshire village of Whittington has a Welsh border castle, said to have been owned by Sir Ivo Fitzwarren in the 14th century; Alice, whom Dick married, was Sir Ivo's daughter. It is possible that Dick was born in Whittington, and was a peasant lad who went to London to seek his fortune. Whatever the truth, the Mercers' Company made a £5,000 grant to the Whittington Castle Preservation Trust to aid in a comparatively recent renovation project. More substantially, the castle trust was awarded nearly a million pounds in May 2005 from a lottery grant and, as a result of that, restoration work began in November 2005. The work included a new tearoom and other improved visitor facilities, and the refurbished site was officially opened in June 2007 by the Duke of Gloucester.
This lovely postal cover has Dick Whittington's picture — and the cat — with a set of GB stamps issued in 1989 showing the Lord Mayor's Show and celebrating 800 years of London mayors.
Click the thumbnail of the special cancellation below to see the enlargement.
---